– "I AM STANDING ON HOLY GROUND" –
Today on the Eve of the Feast of the Assumption of Mary, I am cultivating the feeling that as I move through the world, that everywhere I go, wherever I am, I am standing on holy ground. In my backyard this morning, watching the butterflies & beetles, I was imagining all the life processes that unfold outside of my conscious awareness: my body digesting food & the circulating of my blood. I pictured the trees working with the elemental beings, taking in carbon dioxide, water, & sunlight to synthesize their nourishment.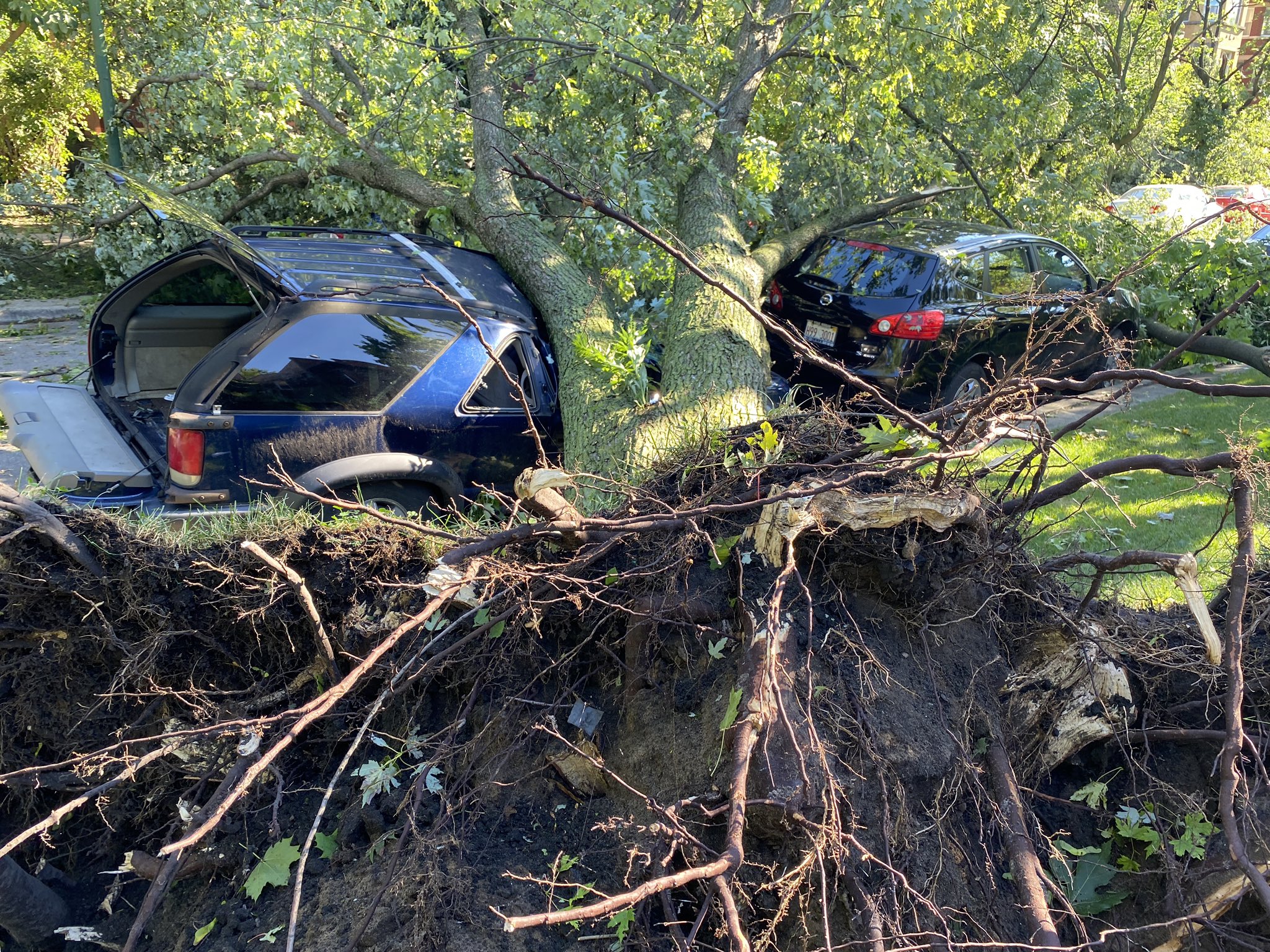 I contemplate the consciousness of the over 7000 trees that went down in the Tornado we had, which touched down on the Great Inland Sea of Chicago in the Rogers Park Neighborhood, & wreaked havoc all over the North side.
I am tuning into the micro-organisms in the soil beneath my feet endlessly toiling away to create humus.
The air is alive – a shift has occurred since the Tornado. Many people who the day before would pass by without eye contact, are now stopping to help each other. Neighborhoods coming together to clear streets & marvel at the power of Mother Nature.
The wild life is awake – ever present – reaching out to us – active in the Summer light. I 'see' the bee as a spiritual messenger – an interlocutor – Carriers of the Solar-Logos – an intermediary, between the human being & the Spiritual realms – Opening us to those peripheral dimensions of human awareness where super-sensible perceptions can awaken.
The bee carries a signal or frequency that enables transformation; it enables the sterile to become fertile & initiates the process of regeneration…
Even if you don't 'perceive' any of these things directly; can you use your imaginative cognition to feel how alive & active & real the spiritual world is, working behind all that we see in the nature world?
And so I ask: What other growth & transformation might be going on in secret?
Ahh, what a perfect time to tune-in to all the vitalizing alchemy that is usually hidden, as I contemplate the mystery of the Assumption of Mary, the Mother of god.
Xox
Blessings & Peace ~Hazel Archer Ginsberg
~The Soul of the World becomes visible
on the cross of the Worlds body
thru Wisdom, Love, & the power of Will
thru All-sense & thru I-sense
She lives, & finds
within Herself the Spirit of the World…
~Rudolf Steiner
(my current meditation on the Sophia Sun)
14 August 2020 – "Speaking with the Stars": How early in twilight can you spot Jupiter & then Saturn glimmering into view? Look for them in the Southeast. To their right, pick out the Sagittarius Teapot stars until twilight is nearly over. Later the Jupiter-Saturn pair turns perfectly horizontal, a little earlier each night.
In early dawn Saturday morning, look east for Venus paired beautifully with the waning crescent Moon. They're only 3° or 4° apart for the Americas, shining in the dim feet of Gemini.
Look for Castor & Pollux to their lower left. Orion is farther to their right or lower right.
***
Rudolf Steiner's Lectures on this day
"What is to be the starting force & impulse for events in social & ethical life must come out of the spiritual world." ~Rudolf Steiner, New Spiritual Impulses in History" Dornach 16 December, 1917
ON THIS DAY IN HISTORY
600 BC – Birthday of LaTzu, an ancient Chinese philosopher, writer – thought to be a contemporary of Confucius. The author of the Tao Te Ching & the founder of Taoism, also thought of as a deity in traditional Chinese religions.
1340 – Birthday of Meister Bertram of Minden, a German International Gothic painter primarily of religious art, 1st to paint the serpent as a temptress with a human head
1842 – American Indian Wars: Second Seminole War ends, with the Seminole tribe forced from Florida to Oklahoma
1880 – Construction of Cologne Cathedral is completed
1888 – An audio recording of English composer Arthur Sullivan's "The Lost Chord", one of the first recordings of music ever made, is played during a press conference introducing Thomas Edison's phonograph in London, England
1912 – U.S. Marines invade Nicaragua
1914 – World War I: Start of the Battle of Lorraine
1916 – Romania declares war on Austria-Hungary, joining the Entente in World War I
1922 – Deathday of Alfred Harmsworth (Lord Northcliffe) British press baron & pre-1914 warmonger
1935 – Franklin D. Roosevelt signs the Social Security Act, creating a government pension system for the retired
1941 – World War II: Winston Churchill and Franklin D. Roosevelt sign the Atlantic Charter
1945 – Japan accepts the Allied terms of surrender in World War II
1945 – Deathday of Helene Rochling, proof reader, & helper to Rudolf Steiner
1947 – Pakistan gains Independence from the British Empire & joins the Commonwealth of Nations
1956 – Deathday of Bertolt Brecht
2013 – Egypt declares a state of emergency as security forces kill hundreds of demonstrators supporting former president Mohamed Morsi
2015 – The US Embassy in Havana, Cuba re-opens after 54 years
***
Join us for the HOMECOMING of the Classroom Alive Crew-
Bring a dish to share to welcome the travelers back to Chicago
Details of when & what time TBA
ANY FINANCIAL SUPPORT IS ALSO APPRECIATED FOR FOOD & SUPPLIES https://www.paypal.com/paypalme/UrbanFirstAid?locale.x=en_US
With love and light,
Ultra, Stefan, Robbie, Frank, Dottie, and the rest of the Classroom Alive sole-power team
August 20-23, 2020 Questions of Courage Youth Conference at Elderberries
Questions of Courage 2020 in Chicago – August 20-23 Elderberries Biodynamic Outpost and 3Fold Cultural Hub 4251 N. Lincolon Ave. Chicago, IL. 60618
August 20: COMMUNITY POTLUCK GATHERING to Welcome the Youth. Please bring a dish & beverages to share – Time TBA
Check-in, share conversation, build the ground for the journey together.
August 21-22: Travel to Wisconsin Move together towards the land, link up with Farmer John and Haidy Angelic Organics Biodynamic Farm, and also with Dana and Phil Burns at Healing Traditions and Alizur farm. Connect with the land, plants, animals, and one another, through creative explorations and "roughin' it" type amendments. Sleep under the stars or indoors.
August 23: Return to Chicago WELCOME HOME POTLUCK COMMUNITY GATHERING – Please support the youth with dinner, beverages & desert!
Enter back into the metropolitan context, into the social questions of urban life, and close the gathering together at Elderberries, setting the ground for future work out of questions of courage that are present.
Other locations and collaborators are currently in dialogue, and will be updated here.
The gathering is essentially about stepping into the living natural element, step by step, making an integral connection, with one another, ourselves, and the elements that support us here on the Earth…"
registration: https://docs.google.com/…/1FAIpQLSdY7KXHkjUPV2h9UD…/viewform
Thank you Elderberries for giving us an anchor to build our heartland gathering around!
Elderberries Biodynamic Outpost + Threefold Cultural Hub, 4251 North Lincoln Avenue, Chicago, IL 60618
Co-sponsored in part by The Rudolf Steiner Branch Chicago, Hazel Archer-Ginsberg, Festival & Program Coordinator
***
August 27-30 How We Will 2020: 3-Folding our Cultural Revolution is continuing its journey of transforming our ideals into action. The theme this year is Forming Curative Communities: actively uniting with one another in the emerging economic, political/rights and social/cultural/spiritual forms seeking to reshape the ills plaguing humanity into a healthy social organism for our time. Please join us if you'd like to hear from, and collaborate with those on the front lines inspired out of the fruits of Rudolf Steiner's work: can your own hopes for the world find a way to connect with others striving to do the good as our friend Bernard Lievegoed was wont to say? Our own hero Ella Baker shares: 'we must not stop until we can get people to recognize that they themselves have to make the struggle for freedom and human dignity everyday, in the year, every year, until they win it.'
Invitation and Registration are now open:How We Will 2020


Michaela Gloeckler of the Medical Section in Dornach and cofounder of Allianz ELIANT brings the Archetypal Picture of Ita Wegman and the Young Doctors and their courageous movement for a Michaelic renewal of civilization as a World War II raged all around them.




Bart Eddy of Brightmoor Makers and Sunbridge will speak to what it takes to initiate our ideals into action that are inspired by the our higher natures and our wish to serve others in our time. His 'brought down to earth visioning', is serving the youth in one of the poorest parts in Detroit where entrepreneurs for the good are in training, not only learning to support their own livelihoods but also empowering change in their communities where devastating health and environmental issues abound: his inspired ideas for our time keep unfolding new forms for these youth!




Kait Ziegler of the Poor People's Campaign: A National Call for Moral Revival, and Repairers of the Breach, working with Reverends William Barber and Liz Theoharis, and a small beyond dedicated team, will share on this 'turning inside out' and what it takes to organize for social change along side of four pillars: Racism, Poverty, Ecological Devastation and the War/Prison Economy which requires a new narrative above all and a capacity to work with those who have very divergent views in the activist community. John Bloom of Rudolf Steiner Finance and General Secretary of the Anthropsophical Society will offer a conversation Toward Justice and Freedom and Capital, Money, Spirit and Matter.




Nicanor Perlas, a long time advocate for social change in the Philippines and youth mentor, will shape a conversation around 'The Future will be what we Fight For'. His country continues to be on lockdown where they are not allowed to go outside their houses even for food and whose president recently said that he 'would work with the military to distribute the vaccine'.




Laura Summer of Free Columbia, an art and education initiative in Philmont New York, will present on New Forms Around Art – Art Dispersal and Local Grants to increase diversity in diverse communities. Art Accessible to 100% of the People!

Naim Edwards, Seneca Gonzalez, Melody Brink, Kristin Buckbee, Akil Bell, Monika Pudelko, Joan Jaeckel, Patrice Maynard, Hazel Archer-Ginsberg,


Dottie Zold and Frank Agrama of the Elderberries community and newly formed Circles for a Renewal of Culture non profit, will invite an open conversation as to how it is that the Steiner students here in our country and around the world can be good advocates for emergent healing forms, where the essence of what is human is at the center of our concerns. This threefold social form has yet to be realized and yet we see all around us new forms coming into being. What do the Steiner students have to contribute to the conversation of human rights in these three realms and do we have the will to unite together for the common good of humanity? Can we organize for the future needs out of the fruits of Rudolf Steiner's work in the world? Do we have the will for this? If so can we make a beginning at organizing and shaping our actions now?